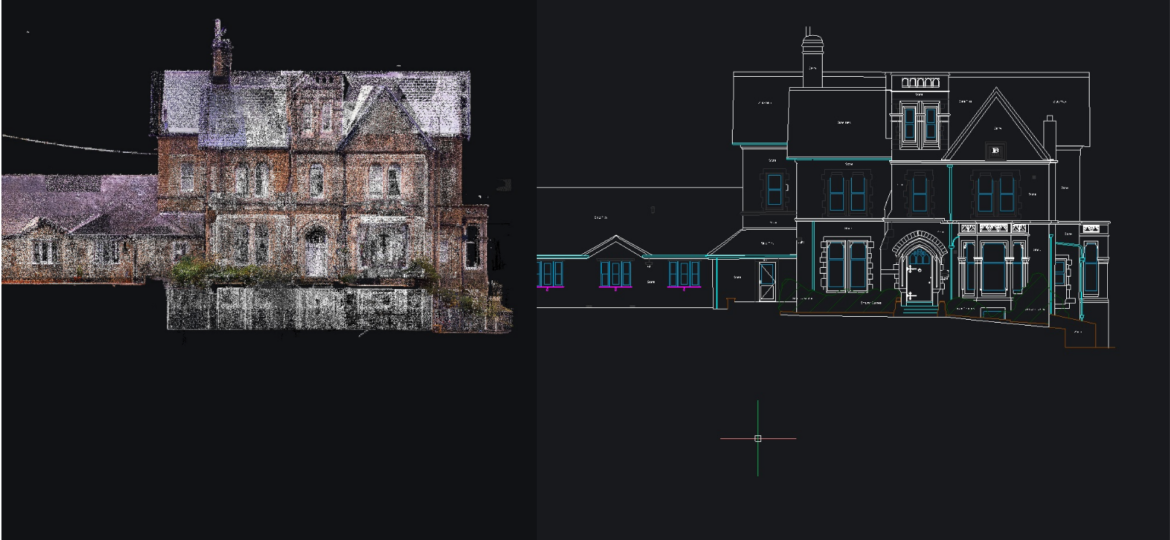 Introduction
KTF Pointcloud is a new plugin for BricsCAD, that is free to own for all KTF Software BricsCAD Pro customers with Maintenance or Subscription licenses. It was initially developed to meet the advanced functionality requirements of one of our surveyor customers. Working closely with the customer, Dan Wiseman created custom Lisp routines that tapped into many of BricsCAD's existing features, enhancing the user experience and enabling seamless Pointcloud slicing and 2D plan creation. Let's delve into the extraordinary capabilities of KTF Pointcloud and discover how it can transform your BricsCAD workflow.
Seamless Integration and New Tool Panel
As a plugin for BricsCAD, KTF Pointcloud seamlessly integrates with BricsCAD Pro and creates a new tool panel. This intuitive interface ensures easy accessibility to the plugin's robust features, enhancing your productivity and efficiency.
Crop Pointclouds and Utilize Direct Modelling
KTF Pointcloud empowers you to crop Pointcloud data effortlessly while utilising BricsCAD's direct modelling functions. By leveraging the power of push/pull operations, you can easily modify the Pointcloud to fit your specific requirements, providing you with ultimate control over your design.
Precision Slice Adjustments
The slice functionality within KTF Pointcloud allows for precise adjustments along the horizontal and vertical axes. By nudging the slice horizontally, you can draft accurate 2D plans, while vertical adjustments enable you to create elevations with ease. Additionally, the slice can be extruded, giving you the ability to fine-tune the thickness of the crop according to your needs.
Custom Crop Thickness and Bubble Viewer Integration
To achieve the utmost accuracy in your drafting, KTF Pointcloud provides the ability to adjust the porosity of the Pointcloud. By fine-tuning the porosity settings, you can ensure the most accurate representation of your designs, delivering exceptional visual fidelity in your 2D plans.
Convenient Spot Height Annotations
KTF Pointcloud offers an efficient add spot height tool that simplifies the process of adding height annotations to your designs. With the ability to add prefixes or suffixes, such as FFL (Finished Floor Level), you can provide clear and concise information. Furthermore, the text size can be overridden, ensuring optimal visibility and readability.
Precise Measurements with Vertical Measurement Tool
Accurate measurements are essential, and KTF Pointcloud's vertical measurement tool enables you to measure entities within the bubble viewer with precision. Whether determining the height of a door or other elements within your design, this tool ensures accuracy and facilitates effective collaboration with stakeholders.
Conclusion
KTF Pointcloud, a free plugin available to all KTF Software customers with a Subscription or Maintenance plan, is a game-changer for BricsCAD users. Originally developed in collaboration with a surveyor customer, this plugin enhances BricsCAD Pro by unlocking advanced Pointcloud slicing and 2D plan creation capabilities. With seamless integration, intuitive tools, and the ability to customise crop thickness, add spot heights, and perform precise measurements, KTF Pointcloud empowers designers, architects, and surveyors to elevate their designs with unparalleled ease and accuracy. Integrate KTF Pointcloud into your BricsCAD workflow and unlock the true potential of your Pointcloud data.