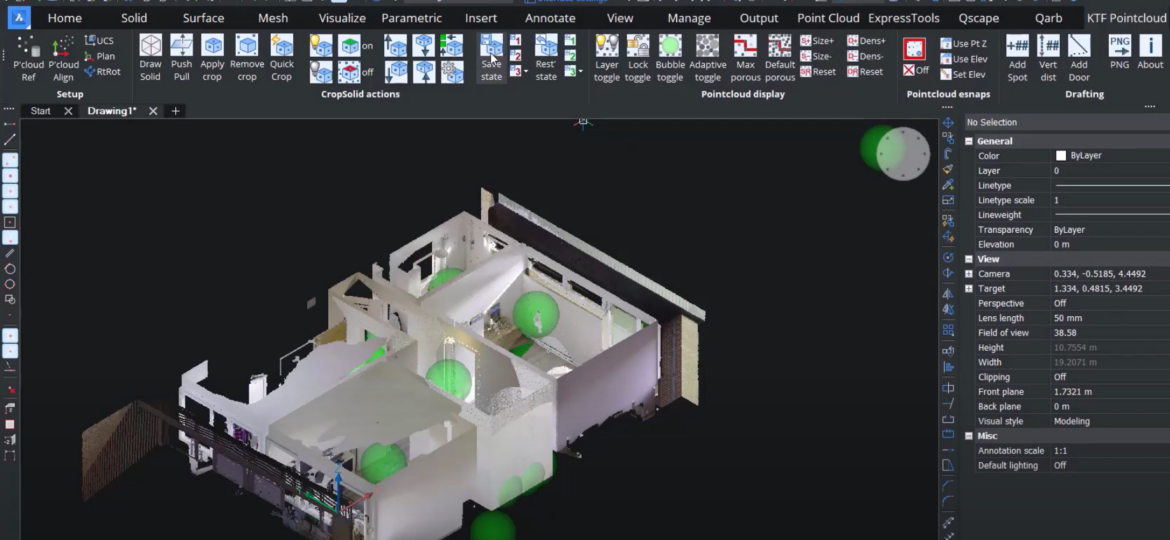 Introduction
KTF Pointcloud is rapidly becoming a must-have tool for our BricsCAD Pointcloud users. The tool is free to all KTF Software BricsCAD customers who have Maintenance or Subscription licenses. 30 day trials are also available for all. Please read on, if you would like more information about how this tool can revolutionise your Pointcloud drafting workflow.
Seamless Integration
KTF Pointcloud seamlessly integrates with BricsCAD, providing a streamlined experience for users. With its intuitive tool panel, you'll gain easy access to a wide range of powerful features that will boost your productivity and efficiency. No more navigating through complex menus—KTF Pointcloud simplifies your design process.
Crop Pointclouds and UtiliSe Direct Modelling
One of the standout features of KTF Pointcloud is its ability to crop a Pointcloud effortlessly by leveraging BricsCAD's direct modeling functions. Thanks to push/pull operations, modifying Pointclouds to meet your specific requirements becomes a breeze. This level of control over your designs is a game-changer, allowing you to create precise and customised sections of your Pointcloud.
Precision Slice Adjustments
The slice functionality within KTF Pointcloud offers precise adjustments along both horizontal and vertical axes. By nudging the slice horizontally, you can draft highly accurate 2D plans. Vertical adjustments enable you to create elevations with ease. Moreover, the slice can be extruded, giving you the flexibility to fine-tune crop thickness to suit your project's needs. Your designs will now match your vision perfectly.
Custom Crop Thickness and Bubble Viewer Integration
For those seeking maximum accuracy in their drafting, KTF Pointcloud provides the ability to fine-tune Pointcloud porosity settings. This means you can ensure the most faithful representation of your designs, resulting in exceptional visual fidelity in your 2D plans. Your clients and collaborators will appreciate the attention to detail.
Convenient Spot Height Annotations
KTF Pointcloud simplifies the process of adding height annotations to your designs with its efficient spot height tool. Whether you need to label Finished Floor Levels (FFL) or other elements, you can do it with ease. Customise your annotations with prefixes or suffixes and adjust text size for optimal visibility and readability. Your documentation will be clear and concise.
Precise Measurements with Vertical Measurement Tool
Accurate measurements are crucial in design work. KTF Pointcloud's vertical measurement tool allows you to measure entities within the bubble viewer with pinpoint precision. Whether you're determining the height of a door or other design elements, this tool ensures accuracy and facilitates effective collaboration with stakeholders. You'll never second-guess your measurements again.
Conclusion
In conclusion, KTF Pointcloud is a game-changer for BricsCAD users. Originally developed in collaboration with one of our surveyor customers, this plugin enhances BricsCAD functionality by unlocking advanced Pointcloud slicing and 2D plan creation capabilities. With seamless integration, intuitive tools, and the ability to customise crop thickness, add spot heights, and perform precise measurements, KTF Pointcloud empowers users from all industries to elevate their designs with unparalleled ease and accuracy. Whether you're an existing KTF Software customer or curious to try it out with our 30-day trial, integrate KTF Pointcloud into your BricsCAD workflow and unlock the true potential of your Pointcloud data.
Don't miss the opportunity to take your BricsCAD experience to the next level with KTF Pointcloud. Try it today and see the difference for yourself.