Azure Outdoor Living Utilises BricsCAD for Their Bespoke Glazing Solutions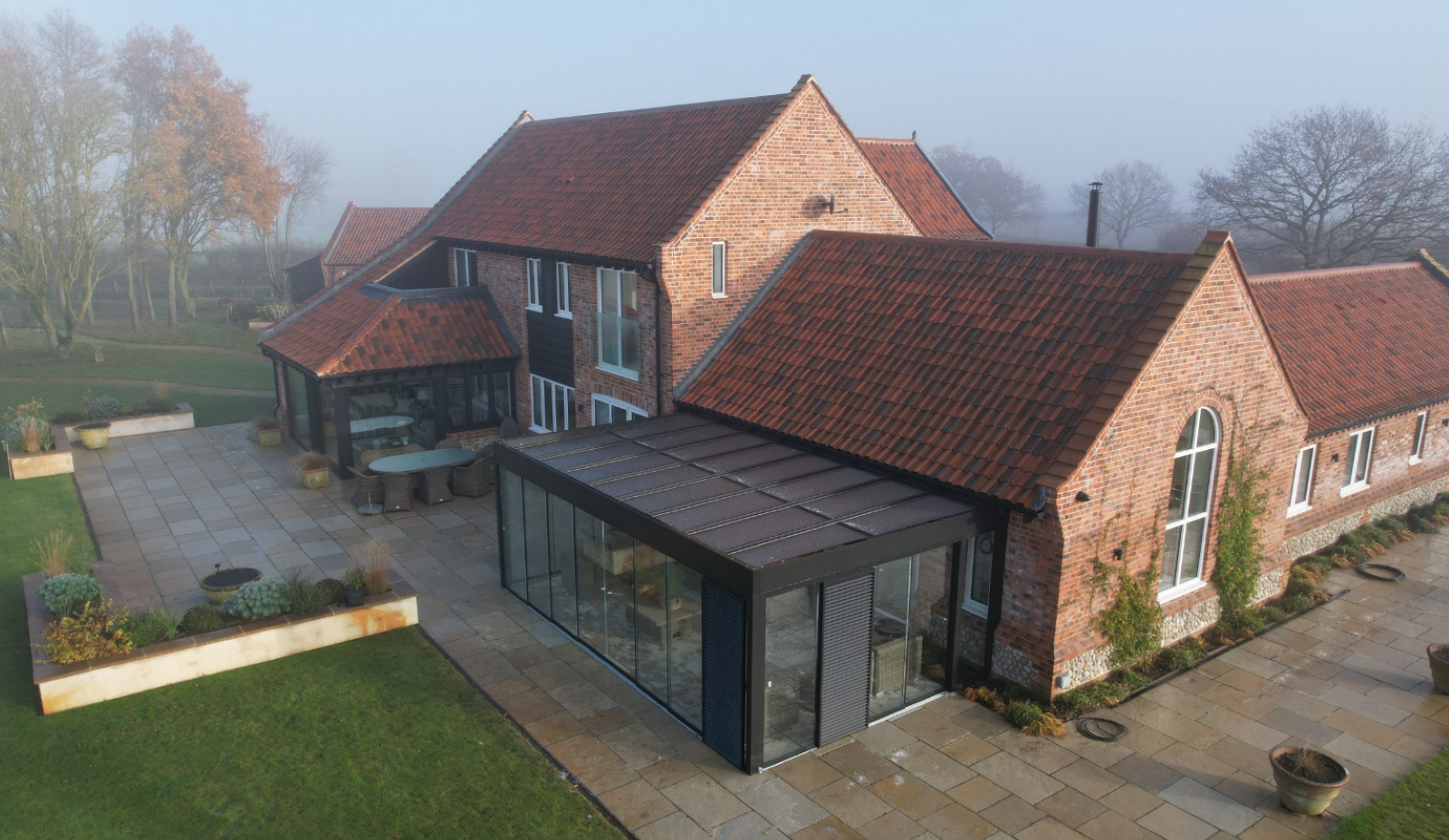 BACKGROUND
Azure Outdoor Living specialises in high-end, bespoke outdoor living solutions. They undertake complex projects that other companies tend to avoid due to their level of complexity. With their vast industry experience, long-term and close working relationships with manufacturers, and the right tools for the job, the company has an 'anything is possible' approach to projects. They have been winning projects over their competitors and approaching them with confidence, knowing that all components will fit perfectly the first time and reduce the need for return visits.
KEY CHALLENGES
When Azure Outdoor Living launched, they aimed to offer high-end bespoke solutions that none of their competitors were offering. However, they soon realized that they needed a CAD package to present their ideas in a detailed and accurate way to manufacturers with the ability to manipulate designs easily. They needed something that had a fast and easy learning curve since they had limited experience in CAD.
SOLUTION
After researching, they found that the most affordable CAD package that supported the Leica plug-ins for sending measurements directly from their Disto S910 was BricsCAD. Azure Outdoor Living chose BricsCAD since they found it to be very familiar and at an attractive price point. They purchased BricsCAD Lite for a one-off payment, which did everything they needed and opted for an annual maintenance package that ensured they had the latest updates and could upgrade to new releases when they became available. The speed and power of BricsCAD and the availability of tutorials made it easy for them to learn and produce informative drawings for manufacture and easy-to-understand documentation for the installation team.
IMPACT
BricsCAD has enabled Azure Outdoor Living to present their projects to manufacturers in a detailed, accurate, and easily manipulable way, which has helped them to win more projects over their competitors. BricsCAD has also made it possible for them to reduce the need for return visits, which has reduced their operating costs significantly.
CONCLUSION
Co-founder Kevin Eldred told me that they are "extremely pleased with BricsCAD, and it has surpassed all their expectations" and that they "highly recommend it to others who are looking for a CAD package that is fast, easy to learn, and affordable". BricsCAD has enabled them to achieve their goal of offering high-end bespoke solutions that none of their competitors are offering, and it has helped them to achieve their objectives with confidence.
Like Azure Outdoor Living, you can take advantage of a powerful CAD tool with an easy learning curve that can help you create detailed and accurate plans to send to manufacturers. Don't let outdated software and workflows slow you down. Upgrade to BricsCAD and take your designs to the next level.

If you'd like to see any of our software in action, you can request a personalised demo or try it for yourself with a 30-day trial.
Our experts are on hand to answer any of your queries so feel free to get in touch, we're here for you.
"I would recommend this program to any designer…Absolutely 5 stars"
Thank you for bringing BricsCAD to my attention.
Ben Bentley
"Instinctive and straightforward to learn…excellent support and development"
Overall, an excellent design tool written by a very end-user focused company who provide excellent support and development for their product
Taylor Wimpey
"Key TERRA-FIRMA is a very easy to use but effective tool…I highly recommend this product"
It has allowed a person with no surveying or technical drawing abilities to down load survey data and manipulate it on a drawing platform.
SiEnergy
"Impressed at the service"
I would like to express how impressed I am at the service offered by yourself and colleagues and will not have any hesitation in recommending your company
Normalite
"An excellent business decision switching to KTF and BricsCAD"
BricsCAD itself is a powerful CAD tool that does everything our previous package did and more besides
SJ Geomatics
"Impressed with the level of expertise and support received from KTF"
The software is extremely easy to navigate, although we know if needed, help is only a phone call away
Anthony Brookes Surveys
"KTF Software have been great helping me with the transition from AutoCAD to BricsCAD"
The ongoing support has been brilliant, would definitely recommend
CG Surveys
"BricsCAD is a powerful alternative to other CAD packages"
BricsCAD is more than powerful enough to deliver our needs in a CAD package. It is easy to use and user-friendly
Sulmara Subsea
"Extremely impressed by the high level of personal support we have had from KTF Software"
KTF's expertise in BricsCAD software can be taken for granted but what is far more important is the speed and empathy they bring to bear when things go wrong
Backwoodsman
"BricsCAD was liked better than the old software"
Whilst the cost saving is a great advantage, having this software has enabled us to maintain our high standard of as-built drawings
Arthur Hudson Site Engineers
"BricsCAD is user friendly, and KTF Software have been very supportive and helpful"
KTF Software have supplied and supported our company with BricsCAD software over the past couple of years. BricsCAD is user friendly, and KTF Software have been very supportive and helpful
SRL Traffics Systems
"Your service and software is fab"
BricsCAD is perfect for most architectural practices. Price is right and the purchase options are right.
Veritas Architecture and Planning
"Blown away by the level of service"
Thanks for recommending BricsCAD, I will definitely be purchasing again through KTF
South Downs Safety
"Reliable, fast, and affordable with no real learning curve for an existing CAD user"
After trialing other CAD software, BricsCAD quickly became the standout choice. Reliable, fast, and affordable with no real learning curve for an existing CAD user
Kippax Printtech
"Workflow is much easier and accurate being able to do everything in BricsCAD"
I just wanted to give my thanks for the amount of support you've given us, this was truly amazing customer support
Philip Wadge Architecture
Innovative, easy-to-use CAD products with flexible licensing options and an emphasis on customer service and support.
KTF is a solutions and value-driven company that puts the user experience at the forefront of everything that we do. We build products that are simple to use yet have the power and innovation to make your design tasks an absolute breeze. You don't need to take our word for it, just download a free trial of our software today and find out for yourself how our design software can improve your productivity and workflows.